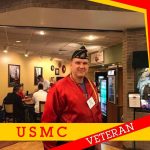 We all have days we will remember until we die. Some of my most memorable were when I served as an infantry Marine in Charlie Company, first battalion, third Marines. A recruiter once told me, "people do not enlist in the military for reasons of patriotism, that comes later." Sadly, this statement rang true for me. I was illiterate until eighth grade and by high school graduation I was still struggling and had limited options for life after school. The Marine Corps was my ticket to opportunities to include perhaps even a college degree.
The, "that comes later" began on a sunny Hawaiian day in 1990. We were on the big island of Hawaii when our company commander stopped training, pulled all of us together, and told us that Iraq invaded Kuwait. The United States was moving to war, Charlie Company was going but I was not. My last day was a Friday, we were watching young Hawaiians protesting our going to "war for oil" on the television; our level of anger was high. Then I heard a simple statement cut through all the noise, "Gentlemen…democracy is tolerance to all you despise." It was our commanding officer; we called the room to attention as he walked out; message received.
During Desert Storm I was doing other things for the corps and it was during this time I came to understand my past commanding officer meant that "tolerance" meant patriotism. It was on the day I received word that LCpl. Stuart (my friend, my brother in the corps,) had died; shot in the head. I was reminded that we serve and if fate required die so people in the United States and in many other countries can do things that we despise…that is the price of freedom. Stuart would not be the last to die. Before Charlie Company returned home, 1stLt. Monroe, the company Executive Officer, would join him. I wondered which was better – Stuart was single but from a large family that would remember him or Monroe, a single orphan, who didn't have anyone to have his belongings shipped to. For me, today my list, adding Cpl. Nelson from Kenosha and Capt. McCarthy; both lost in Operation Iraqi Freedom, has grown to twenty-four. The four named were lost in combat, all the others died in training accidents.
So, I ask all of you to help me remember my friends this Memorial Day by giving them and all the others that are with them something they gave up, one hour of your most precious commodity, one hour of your time.
Please join me, my children, and my veteran brothers and sisters with American Legion Post 21 as we remember those who gave up their time so Americans can do things that we despise. Our program will be held at Green Ridge cemetery here in Kenosha starting at 10:00AM. If you cannot join me, then please take a moment and reflect on all our young service members who are not home this Memorial Day and consider how many will not be with us by next Memorial Day and remember that is the price of freedom.