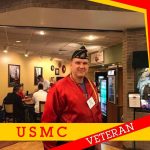 Welcome, and thank you for reading my first article in over two years. Who Am I? I am Carl A. Bogar, Jr., military historian and owner of Historic Military Impressions. Historic Military Impressions is a dream that began in 1997 when I was sent to the United States Military Academy located at West Point, NY, where I was an instructor of Map Reading and Troop Leading Procedures. Before West Point, I planned for a career in law enforcement. During my time at West Point the idea of "growing up" was washed away and I accepted who I was, a military history and artifact junkie.
The question was how to make a living at it? How was I going to get paid to do military history related activates and displays? The plan I developed was in three phases, 1. Build my credibility, 2. Build my collection, and 3. Build my house. The goal was to become self-employed or as I put it to retire from traditional employment and become a military historian by my 45th birthday.
Phase one began when I returned home and realized a degree in Criminal Justice was not enough so back to school I went. I earned a Bachelors of Art in History from Carthage College and a Masters of Art in Military History from Norwich University. In 2009 with two degrees and over 38,000 military artifacts dating from 450BC to modern it was safe to say my "hoard" (collection) was large enough and phases one and two were complete.
Phase three of building the house began in 2010. In September 2013 I left my safe, steady paycheck position with the State of Wisconsin Department of Workforce Development and entered the world of self-employment. At that moment, providence provided me the missing piece of the puzzle to become viable in my aspirations. I was asked to provide a large-scale exhibit of Vietnam War artifacts when the Moving Vietnam Wall was in Pleasant Prairie. By adding an educational value to public events like the Moving Vietnam Wall with large museum quality exhibits, I was able to provide for my family once again.
That year Historic Military Impressions was named, "Home Based Business of the Year," for the Midwest by the United States Small Business Administration. It was our third award by the US SBA in four years. In 2015 a friend of twenty years retired and we evolved from a home-based to a brick-and-mortar business by acquiring his surplus store on 39th Avenue.
In additional to the surplus store, Historic Military Impressions provides small and large exhibits for community events and has worked with numerous organizations such as Boy Scout troops and the University of Wisconsin-Parkside, traveling from Kenosha to Kentucky. Life, although hectic and stressful, is amazing! In the month to come, I plan to share stories of our travels and military history topics in general. I hope you enjoy reading my article and I invite you to like us on Facebook @HMIHistory.  
Carl A. Bogar, Jr.