Historic Military Impressions has several clubs and actives that are conducted at our store located at 6527 39th Ave. in Kenosha, WI
---
Military Historians of Kenosha
The Military Historians is a networking group for military history enthusiasts and collectors.  We meet on the fourth Saturday of each month starting at 9:30 am.  Each month there will be an educational display.   Members are encouraged to bring an item to share.  You are invited to stop in meet some local history buffs and military collectors, have a donut coffee, stay as long as you like.  This group is open to all and free to join.  Learn more and join on the Facebook group Military Historians of Kenosha.
Our next Meeting is April 27:  display will be:  TBA
---
No. 10 Commando WWII Re-Enacting Group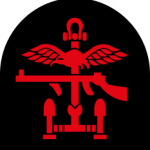 No. 10 Commando was a unit of British Army that fought in World War II.  We re-enact the third troop of this unit which was composed of many Germans, Check and Austrians fighting to free Europe of NAZI control.
Historic Militray Impressions is always looking for people who love history and would like to re-enact World War Two history in the Midwest.  If you would like to know more please contact us.
---
Wargaming Saturday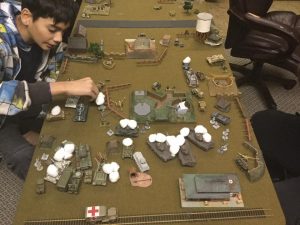 Wargaming Saturday is a fun way to  teach kids about history while reenforcing math skills and logical thinking while playing a three demoniacal table top game.  The event is free and open to kids 8 years of age and older.  Pre registering is required to get the game set up.  Wargaming Saturday starts ate 10am and runs until 3pm.
---
Winter Classes
From October to April each year we offers classes of history topics on the second Saturday of the month from 1PM to 3PM.  The classes are hands on and allow the participance's access to real artifact to learn from.  the classes are only $19.00  or $10.00 fort kids under 18, each.  Refreshments are provided.
2019-20 schedule:
October 12, 2019.   TBA

November 9, 2019.   TBA

December 14, 2019.   TBA

January 11, 2020.   TBA

February 8, 2020.   TBA

March 14, 2020.   TBA

April 11, 2020.   TBA
---
To find out more you can call us at

(262) 654-5335

or
---